A New Year with a Fresh Start!
---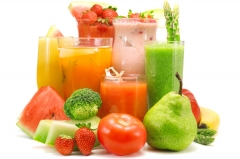 The winter holiday season has drawn to a close and I have finally heard the little voice in my head say, "phew, i'm glad that's over!" Don't get me wrong, I love celebrating. What an amazing time to be surrounded by friends, family and tradition! However, celebration seems to involve too much sugar, too much wine, indulgent food, busy schedules, travel, going to bed late, and did I even mention the cheese platters?
I challenge you to join me in kicking off 2009 with Detox Diet! Anyone can do it. Trust me, I live to eat. Truly, I do. But my new year tradition is to take a few weeks to give my body a break.
For a detailed plan, check out my 14 day Detox Program. This cleanse provides a comprehensive plan that is designed to address all aspects of clinical detoxification. With a two week commitment, you will find yourself energized, motivated and ready to make healthy lifestyle choices that permanently change the way you eat. You may even notice that you lose a few of those holiday pounds!
Posted by: LeighAnn
If the two week detox is more than you are able to tackle this month. Why not make one or two small changes that will make a big difference? Starting today, you may want to drink more water. Or, what about taking a walk after dinner every night for the next week? You may decide to take a "dairy holiday" and use milk alternatives such as rice milk or soy milk. Another idea is to avoid all alcohol and soda for one month and see how it makes you feel.
No matter how you do it, cleaning up your diet will make you feel better. Even if it is deciding to make changes one meal at a time (check out the book review below!), making a healthy choices will lead to a happier you in 2009!
Here is a great way to start changing your diet one meal at a time. Buy this book! In the Anti-inflammation Diet and Recipe Book, Dr. Black reviews the fundamentals of a good diet and its impact on conditions such as arthritis, heart disease and diabetes. She provides clear and easy to implement dietary guidelines and also really tasty recipes! All of the meals in this book are made without wheat, dairy, sugar, peanuts, potatoes and tomatoes- foods which contribute to inflammation when consumed in excess. These are also foods that are the most frequently consumed staples of the standard American diet.
Start with a goal of incorporating two anti-inflammatory meals per week! (I highly recommend her granola recipe, stuffed mushrooms and "easy baked chicken") Before long, you will find that you naturally start using healthier substitutes day to day and you won't feel like you are missing out on a thing!